Tech mogul Elon Musk, who acquired Twitter in October last year for $44 billion, continues to integrate new features on this social media platform to attract more users and have them keep returning for more user sessions.
He has also been introducing new features to make it easier for creators to make content and grow their reader base. Twitter is now being rebranded as X.
Recently, Musk introduced a new feature on the X app and called it a "game-changer" for communities. However, this produced a mixed response from the crypto community.
Musk adds "game-changer" feature, here's communities' reaction
Elon Musk introduced a new feature on the X app that will allow one to use multiple existing data feeds to emhance one's communities. Musk cited a tweet by an X developer, which says that admins of communities can now use the new feature to link lists to their communities – "All posts from that list will show up on your community's top tab for all members."
So far, this innovative feature can be utilized in the Web version of the X app, but as a new update rolls out, it will also become available on both Android and iOS smartphones.
Members of the crypto community and noncrypto fan accounts took this news with a mixed reaction. Some congratulated Musk on the new feature that may potentially make X app a better place, but many also started complaining about the lack of other features working in their regions (Canada), such as Subscriptions, and asked if they can be made available.
Multimedia journalist @David_Leavitt, with 358,800 followers, stated that the new feature is useless to his community "because almost everyone makes posts outside the topic which would spam the community with irrelevant posts."
Another X user commented that "99% of people hate being on any list."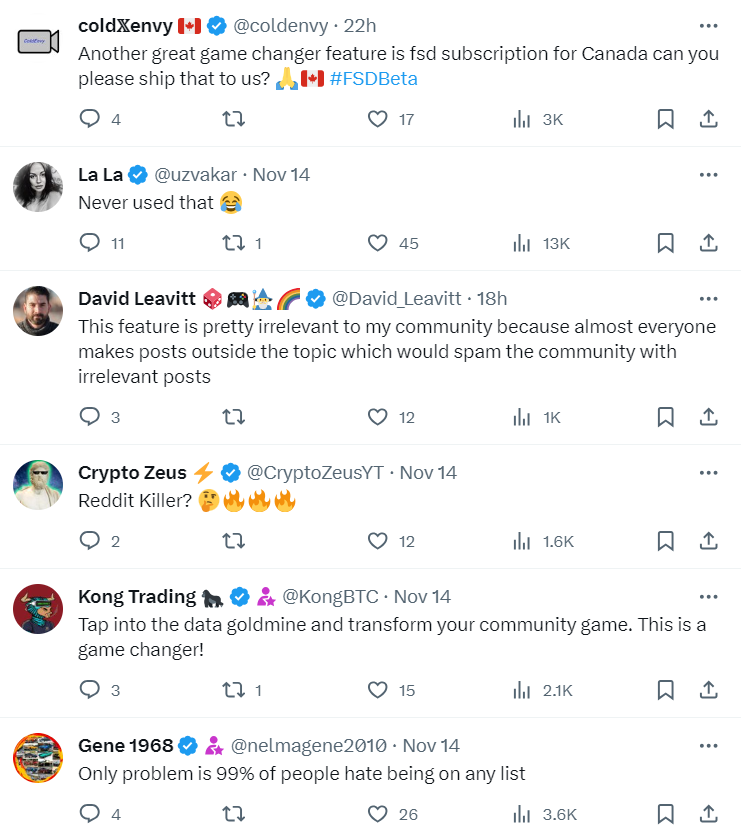 The official marketing manager of the Shiba Inu team, called Lucie, targeted a sharp critique at Elon Musk personally, claiming that a subscription to Premium Plus on X makes one "lose all paid features, even if you have a verified ID, and receive zero answers or support – the ultimate premium plus joke!"
Musk does not plan to launch his own crypto
As November started and the crypto community jointly recalled the FTX collapse that happened a year ago at this time, Elon Musk once again confirmed that he does not plan to launch any crypto tokens via any of his companies.
This time, he made his position "superclear" on the matter. With this statement, Musk responded to a tweet about XAI token soaring after Elon Musk's newest company xAI launched artificial intelligence bot Grok on the X app, presenting a competitor to Open AI's ChatGPT.
Over a hundred crypto tokens with a "grok" element in their names emerged instantly after Musk released his new product. He promised that unlike ChatGPT, his Grok AI bot would not be "woke." Once it was launched, it turned out that Grok even has a sense of humor.