Fetch.AI (FET), the second largest AI cryptocurrency by market capitalization, is surging as the protocol's wallet achieves new interoperability milestones within both Ethereum (ETH) and Cosmos (ATOM) ecosystems. Also, the FET community is excited by a major sponsorship announcement.
Fetch.AI (FET) price soars to levels unseen since February
Today, on Nov. 11, 2023, the price of FET, the core native cryptocurrency of Fetch.AI, a platform for artificial intelligence and machine learning, added more than 10% in just 12 hours. It set a local high over $0.45 on major spot exchanges, as per CoinMarketCap's data.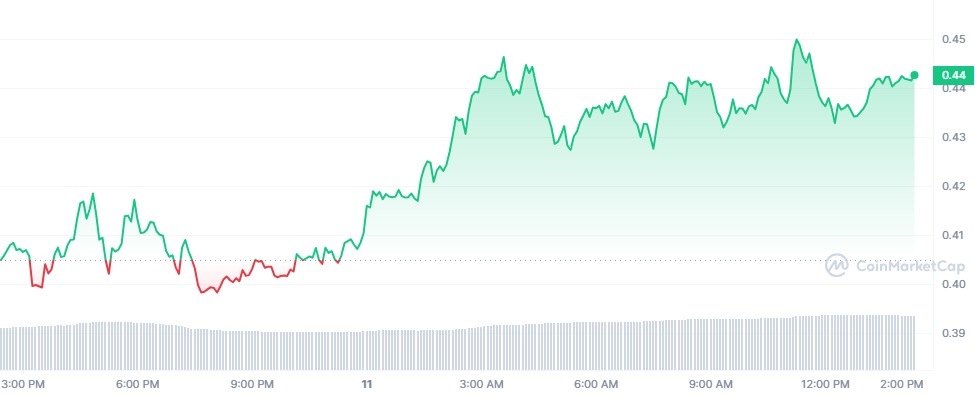 This upsurge expanded the impressive FET price rally: The asset more than doubled in the last 30 days. The last time it was changing hands over $0.45 was in early February 2023.
Besides the overall positive sentiment of the crypto market, the Fetch.AI (FET) price rally might have been catalyzed by the release of Fetch.ai Wallet 0.17, which introduced new interoperability and wallet customization opportunities.
Namely, the wallet now supports the native bridge by Axelar (AXL) for seamless value logistics between a variety of Ethereum (ETH) and Cosmos (ATOM) ecosystem blockchains.
Moreover, its customers can now customize RPC endpoints and connect Fetch.ai Wallet to certain networks manually. This allows crypto holders to interact with novel EVM blockchains in mainnets and testnets.
Fetch.AI (FET) becomes Gold Sponsor of major AI sphere event
Last but not least, the Fetch.ai Wallet 0.17 release introduced an intelligence gas calculation module. With its instruments, traders can now consider gas costs to make more efficient decisions on swaps, liquidity providing and so on.
Besides major tech releases, the team of Fetch.AI (FET) also secured the Gold Partner status at the upcoming AI Summit New York.
The event is set to happen Dec. 6-7 at Javits Center.
In the last 24 hours, the net capitalization of the AI cryptocurrencies segment added 10.6%, as per CoinGecko data. The aggregated valuation of AI cryptos now exceeds $3.89 billion in equivalent.