Arman Shirinyan
Success Ripple shows in court attracts attention of investors
XRP is demonstrating a surge in momentum following a critical move — breaking through the 50-day Exponential Moving Average (EMA) — a significant technical indicator that has not been surpassed since March. This positive shift suggests a potential uptrend for the digital asset and is regarded as one of the most crucial movements for XRP in recent months.
The 50 EMA is a widely used technical analysis tool that averages a currency's price over the past 50 days, placing more weight on recent data. When a currency trades above its 50 EMA, it is often seen as a bullish signal, indicating positive momentum and potential further price increases. XRP's rise above its 50 EMA to the current trading price of $0.46, a 10% increase from its recent low of approximately $0.40, sends a strong bullish signal to investors.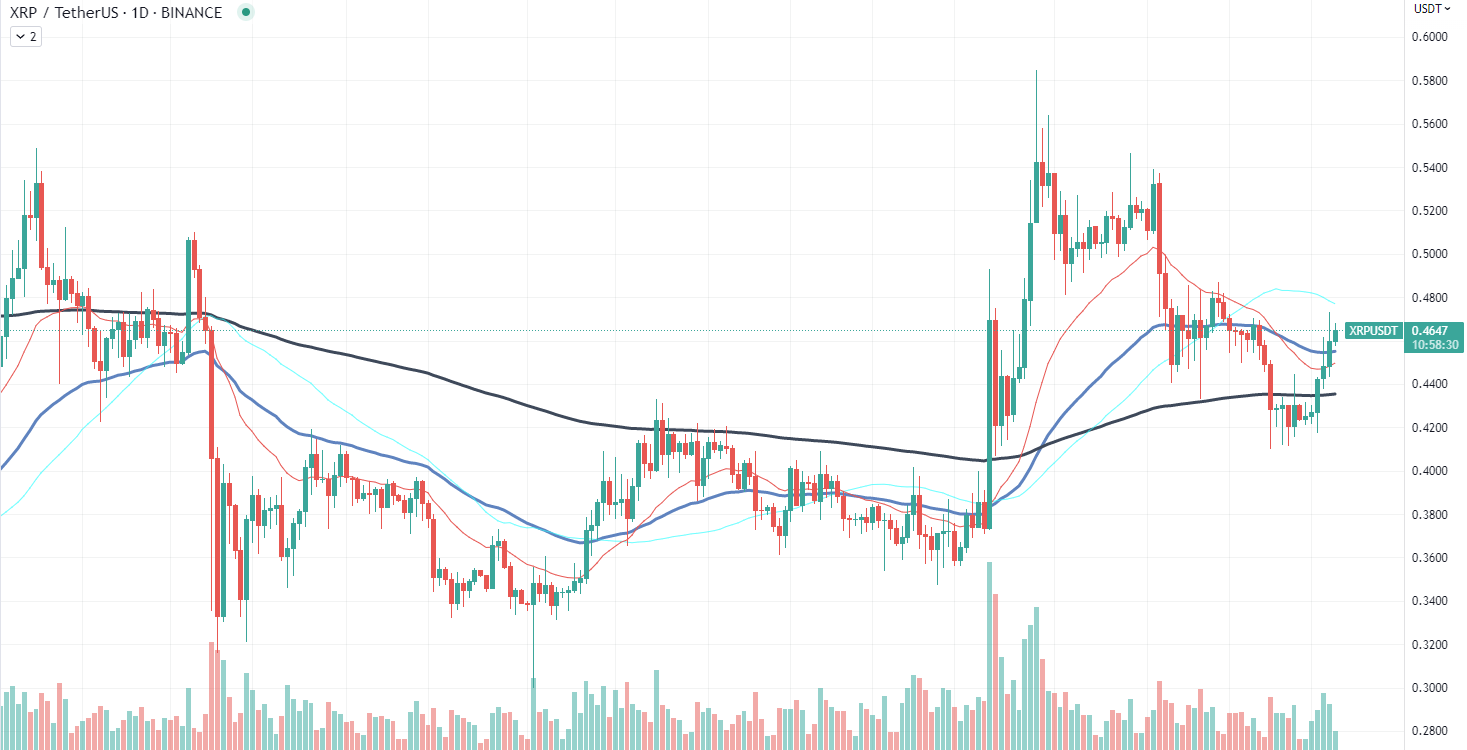 This momentum is bolstered by Ripple's recent legal triumph, involving the revelation of previously hidden email conversations by former SEC official William Hinman. These unredacted emails are considered crucial in the ongoing legal battle between Ripple and the SEC.
The case hinges on whether XRP is a security and whether Ripple's sales of XRP constituted an unregistered securities offering. Hinman's exposed emails could potentially tip the scales in Ripple's favor.
Shiba Inu lacks fundamentals
Shiba Inu (SHIB), one of the most popular meme cryptocurrencies, has recently shown signs of recovery in its burn rate and a modest increase in network activity. Despite these positive indicators, they have not translated into a corresponding upswing in the asset's price performance, leaving SHIB's prospects somewhat dim.
The burn rate of a cryptocurrency refers to the process of permanently removing coins from circulation. A higher burn rate effectively reduces the overall supply of the coin, which, all else being equal, should put upward pressure on the price. While SHIB's burn rate has shown signs of rebounding, it has not triggered the anticipated price surge.
Similarly, the token has also experienced a slight boost in network activity, an important health indicator for a cryptocurrency. This metric reflects the number of transactions taking place on the network, suggesting a degree of user engagement and interest. However, despite the uptick, this has also failed to stimulate a positive price response.
The primary factor seemingly holding back SHIB's price growth appears to be dwindling interest among investors in the meme coin. As the novelty and speculative frenzy around meme coins like SHIB wanes, it has become increasingly difficult for such tokens to attract new investors or retain existing ones, leading to stagnant or declining prices.
Lido V2 hype was short-lived
In an unexpected turn of events, the price of Lido Finance's native token, LDO, has experienced a sharp 15% decline as the initial enthusiasm surrounding the LidoV2 upgrade appears to be rapidly evaporating. Both retail and institutional investors are withdrawing their staked Ethereum, leading to a price plunge that has left market watchers somewhat startled.
One of the significant factors contributing to LDO's price slump can be traced back to Celsius, a renowned crypto lending platform. Celsius withdrew a substantial $800 million worth of staked Ethereum (stETH) from Lido Finance, an event that sent shockwaves through the Lido community.
The LidoV2 upgrade, which garnered considerable attention due to its enabling of in-protocol ETH withdrawals, was expected to bolster LDO's market position. However, the post-launch landscape has proved to be less promising than anticipated. Despite Lido's dominant share of the liquid-staked ETH market, it seems that the newly enabled functionalities were not enough to retain or attract further investment.