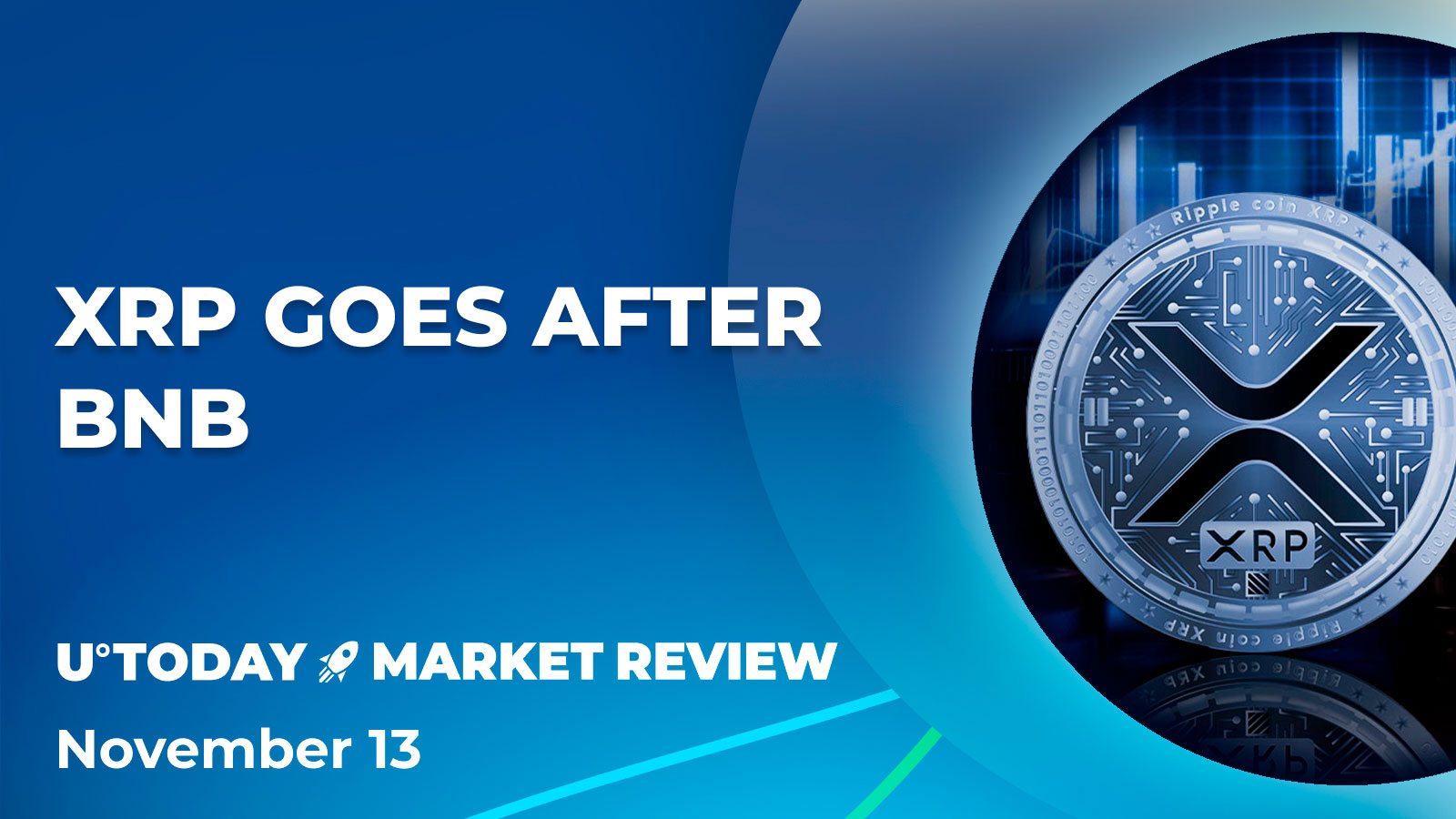 Cover image via www.freepik.com
XRP has been carving its path toward a significant milestone. Between July 14, 2023, and Nov. 10, 2023, the coin saw a price rally on the XRP daily chart that not only brought it close to BNB's market cap but also allowed it to briefly overtake BNB, marking it the fourth-largest cryptocurrency by market capitalization. 
This achievement was the result of a substantial 22% increase in XRP's market value, pushing its cap over the edge to $37.2 billion, compared to BNB's $37.1 billion, according to recent data from CoinMarketCap​​.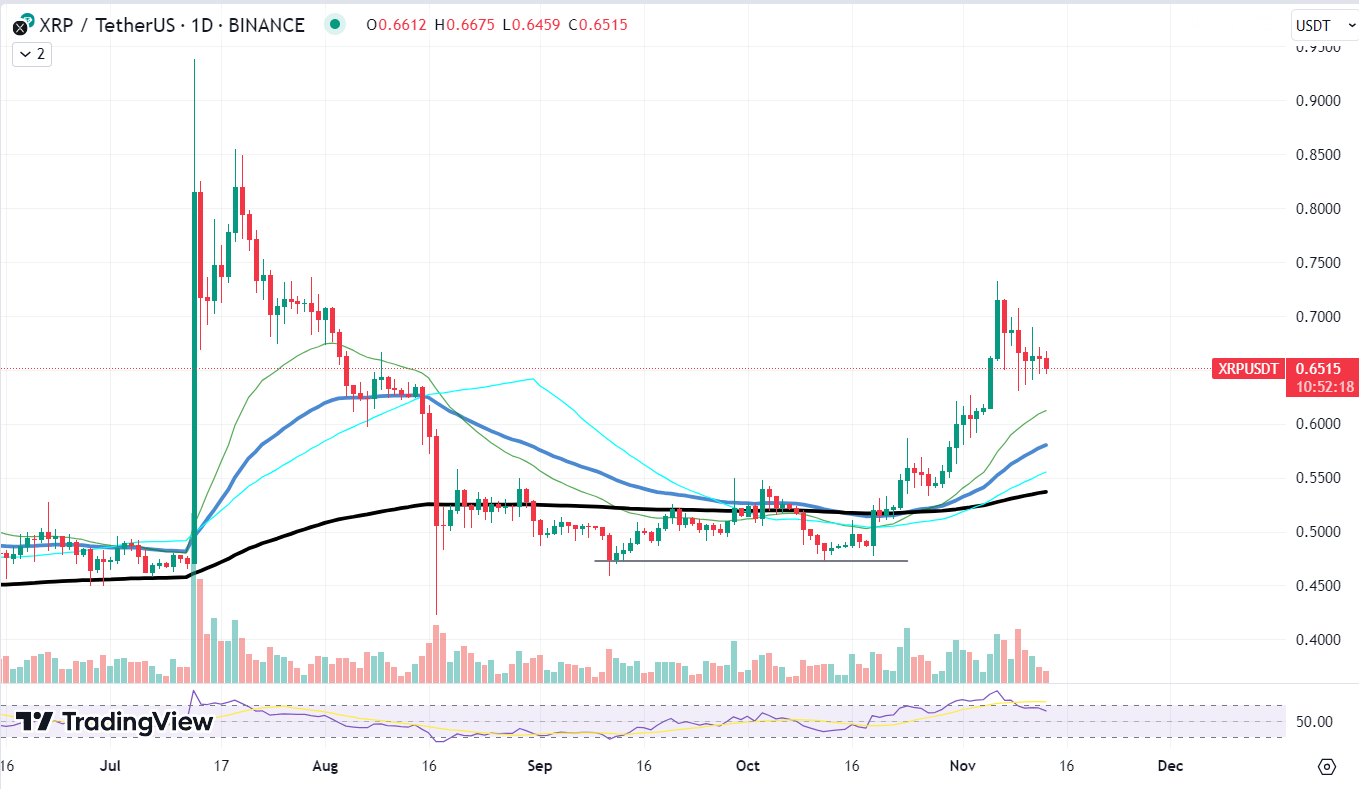 The rally's momentum did not stop there. XRP's market cap surged by an impressive 66% in the past 24 hours, as reported, boosting its valuation to $41.44 billion, while BNB's market value rose by a modest 6.5% to $40.57 billion​​. 
Turning our attention to the price analysis, XRP's journey has been marked by bullish sentiment. After breaking above the 100 and 200-day moving averages, its price gained momentum and embarked on a robust uptrend, leading it to approach its previous daily swing high​​. However, the asset experienced a slight downturn from $0.74 on Nov. 6 and broke below the immediate support at $0.67 by Nov. 9, suggesting a phase of profit-booking by the bulls​​. 
The current trading price of XRP stands at $0.7873, with market analysts eyeing the critical resistance region around $0.8 as the next target, should the upward trend continue​​. This recent price action against both the U.S. Dollar (USDT) and Bitcoin (BTC) indicate renewed investor optimism in the short-term prospects of XRP.
Shiba Inu eyes on rally increase
The meme coin sector of the cryptocurrency market has been abuzz as Shiba Inu (SHIB) eyes a significant rally, following a crucial break above key resistance levels. Technical analysis has indicated that for SHIB to confirm a strong revival, it must break the $0.00001 price point​​. 
In the context of the current market situation, SHIB's recent price action is worth noting. On Nov. 9, the Shiba Inu team unveiled ambitious plans for 2024/2025, which could potentially be fueling investor optimism​​. As of the last check, Shiba Inu was trading at approximately $0.000007986, marking a slight decrease of 0.59% over 24 hours, but a notable gain of over 10% in the past week, and close to 9% over the past month​​.
The SHIB community is also energized by the recent surge in the token's burn rate, which saw an astonishing 14,400% increase within a single day. This spike in token burning has led to the destruction of over 173 million SHIB, as reported by Shibburn​​. 
In the wake of these developments, Binance, a leading cryptocurrency exchange, reported a substantial 22% increase in SHIB trading volume. This surge translated to trading volumes exceeding $37 million for Shiba Inu in just 24 hours, with Binance seeing massive SHIB/USD token transactions, including a staggering transfer of 536 billion SHIB​​​​​​. 
Cardano's bullish tendencies persist
Cardano (ADA) has been showing significant bullish signals in the cryptocurrency market. A recent technical analysis indicated a rounding bottom breakout on the daily chart, a formation that often precedes a continuation of the upward trend. The price of ADA crossed the $0.35 mark, sparking discussions about a potential high-speed breakout rally. Market watchers have their eyes set on the $0.40 level, suggesting that breaching this could signal a move toward the $0.45 mark​. 
This week, Cardano saw a steady price increase, breaching the $0.300 resistance zone. The ADA/USD pair has been gaining momentum, with analysts noting that the rally is just getting started, hinting at more robust gains to come​​. Furthermore, ADA recently soared 19%, marking a major technical strengthening as it bounced back above the 200-day moving average (DMA), a key technical indicator, at the $0.30 level​​.
Cardano's price action is also suggesting heavy bullish sentiment as it outperformed Bitcoin, rallying above the $0.350 resistance. The price is currently trading above this level, and the 100 simple moving average (SMA) on the four-hour chart, which is often considered a bullish indicator. In addition, a key bullish trend line is forming with support that could further bolster ADA's bullish outlook and potentially propel the price toward $0.400 or even $0.420​​.